Loughcrew
(ca.3000 - 3400 B.C.), 70km north of Dublin, is situated on the highest of 4 hills. Maybe these hills were chosen because they resembled the girdle of Orion.
A stone in Cairn T. is illuminated on the equinox days for 20 minutes
(Equinox Stone ( film ))
.
What might the symbols on this stone be? A star map?
Many symbols are there twice though they are not exactly alike. So they are maybe the same stars on different days or it symbolizes a movement on the Equinox days.
The light of the sun moves from the upper left corner to the lower right corner. The sun is rising in the east. The beam moves across the two big "flowers". So let's assume the two big flowers are the sun.(The two other, lower flowers match to the path of the moon, the planets and the sun if seen as the star map.)
I think the bark is Orion's belt - again at two different times. While the sun moves across the stone, the bark moves to the place to meet the sun (Maybe the lines in the second barque symbolize the souls on their journey which arrive at the sun at last - this is the half-circle with the lines above the second flower.). At least on the picture.
In reality the sun rises in the east while Orion is setting in the west - Orion moves away.
But maybe this is just a question of explanation. If one takes a look at the religious believes in the ancient Egypt everything starts to make sense. After death it was believed the deceased traveled in a barque into the west into Osiris (= Orion) realm to reach eternal life. In this
burial chamber
in the end of this journey the deceased appears as a sun disc in the east to show that he or she is born again.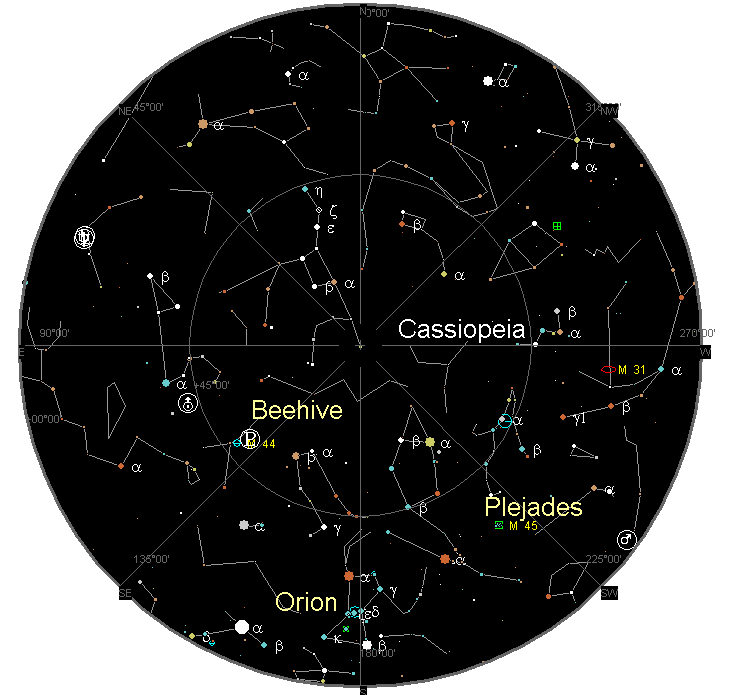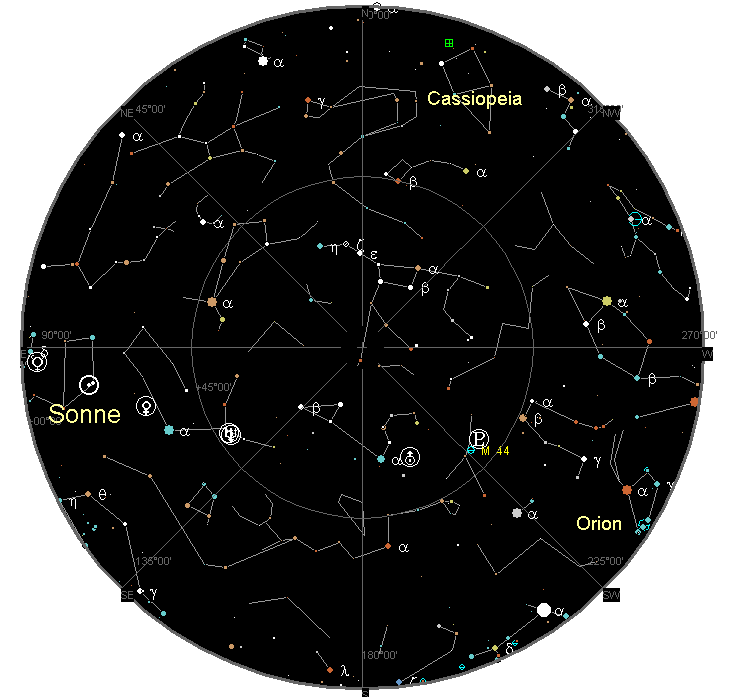 | | |
| --- | --- |
| Dublin 23.9.2999 BC 3:25 | Dublin 23.9.2999 BC 7:30 |
| Orion is in the South | The sun rises in the East, Orion sets in the West |
If this is true it would underline the theory that the position of great pyramids resemble the girdle of Orion.
One last look at the
disc of phaistos
: Single words seem to lead in or outside on both sides of the disc. On one side in the centre there waves (water) and on the other side the very symbol which represents in Loughcrew on the Equinox Stone the sun. Here
Flower or sun
.